Learning With Legos: Building an Iroquois Longhouse
This post may contain affiliate links.
Firefly, my 8 year old, is studying early American history this year, with the Joy Hakim series, A History of US. One of the fun projects he's completed is an Iroquois Longhouse with Legos.
I thought it was important to emphasize that not all Native Americans lived in tipis when studying this time period.  Iroquois and some other tribes lived in houses such as this one, along with many other families. This would be the equivalent of all the families on your block living in one house to keep warm throughout the winter and share resources.
I gave Firefly a printed picture of a longhouse and he set to work.
The Creek Dad assisted with construction of the roof. Here's a look at the interior:

Linking up with Lego Fun Friday over at Frugal Fun For Boys. Stop by and see what other fun learning is happening with Legos.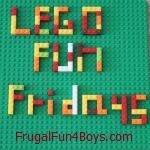 For more ideas about what we are learning for early American history, follow our Pinterest boards:
Hands-On History
Early American History
Learning With American Girl